Local Scout completes prayer garden at Holy Cross Parish
REGIONAL
Story and photos by Carolee McGrath
SPRINGFIELD – Parishioners of Holy Cross Parish in Springfield gathered outside the church after the 11 a.m. Mass Sunday, Sept. 24, to take part in a special blessing of a new Marian prayer garden.
Boy Scout Vincent Bussolari, who belongs to Troop 32 in Springfield, designed and constructed the prayer garden as his part of his community service requirement to attain the rank of Eagle Scout.
"I got it approved April 11. March would have been the initial starting point. I officially finished it August 30," said Bussolari, who added it took more than 100 hours to complete.
Bussolari, who started as a Cub Scout when he was 5 years old, is a senior at Pope Francis High School. He completed all of his sacraments at Holy Cross.
"It's something of beauty. When you're here at Mass, you hear about Jesus, Mary and Joseph. There's a Marian statue inside but nothing outside. There's a sign, but not statues outside, so I thought the Blessed Mother was the best option" said Bussolari who was able to get most of the materials donated for the garden.
Father David Darcy, pastor of Holy Cross, said the garden provides an invitation to people to come pray at any time of the day.
"There are so many people driving down this street, not only who are dropping off and picking up students for school, but in general because it's right next to a public park. A lot of people walk their dogs up and down, so this is a great opportunity," said Father Darcy.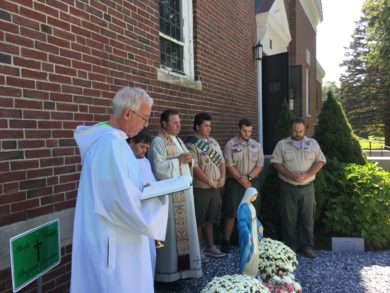 "Anytime, to go into quiet time with the Lord, either to bear some of our burdens or problems or just have quiet time to be strengthened by God, it's an incredible opportunity," Father Darcy continued.
There is a small memorial stone in the garden, dedicated to Bussolari's uncle, Roger Bussolari, who passed away in 2007.
"He was almost like a father figure in my life. I always looked up to him. He was always there," said the 17-year-old.
The garden is located on the side of the church adjacent to Eddywood Street in Springfield.
For a video version of this story, tune into an upcoming edition of "Real to Reel," the Diocese of Springfield's weekly television newsmagazine that airs Saturday evenings  at 7 on WWLP-22 NEWS.