Pope Francis High School holds first Cardinal Classic Golf Tournament
REGIONAL
Staff report
WEST SPRINGFIELD – Pope Francis High School (PFHS) held its inaugural Cardinal Classic Golf Tournament at the Springfield Country Club, here, on Monday, June 12, the second day of a three-day heat wave in western Massachusetts.
The recorded high temperature of the day at the country club was 102 degrees.
"The heat of the day didn't stop our dedicated golfers, volunteers and generous supporters from coming out to benefit the students of Pope Francis High School," said Kevin White, chief advancement officer for PFHS. "We are extraordinarily grateful for their commitment to the future of Catholic secondary education. This is just the beginning of many years of exciting events to support Pope Francis High School."
In total, 120 golfers took part in the inaugural tournament. Among those spotted on the golf course were retired Sheriff Michael J. Ashe, a member of the school's board of directors; Paul Gagliarducci, executive director of the Pope Francis High School Project; a Sisters of St. Joseph foursome; and a foursome of PFHS teachers.
Members of the Pope Francis golf team were available as substitutes for participants in a closest-to-the-pin contest.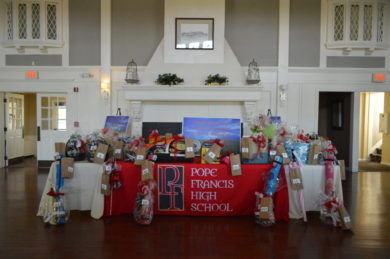 Following the golf tournament, a dinner/raffle auction was held to raise additional monies for the school.
All proceeds will allow Pope Francis to offer additional tuition assistance to keep an education at the school accessible to all who seek to be a part of the community. It will also help the school continue to expand curriculum offerings so students are better prepared for their futures. Additionally, proceeds will be used to update technology at the school, enabling it to stay current in an ever-changing world of technology.