Pope Francis Players to present fall production Dec. 15-17
REGIONAL
Staff report
CHICOPEE – Pope Francis High School has announced that the Pope Francis Players' fall production, "How the Other Half Dies," will be held Friday, Dec. 15 to Sunday, Dec. 17 at Central High School, 1840 Roosevelt Ave., in Springfield.
The comedy murder-mystery will be directed by performing arts instructor John Anziano.
"This light-hearted comedy has been a lot of fun to put together," said Anziano. "Making people laugh is one of the great joys of being a director. It has been a pleasure working with the amazing talent here at Pope Francis High School."
In a desperate attempt to become a member of Harriet Hammer's posh country club, Sybil Chasteen (portrayed by Gianna Branco of Wilbraham) invites Mrs. Hammer (played by Sophie Fitz of Holyoke) to a formal dinner party the same day that she discovers a dead body in the trunk of her new car. While Sybil waits impatiently for the authorities, the corpse sits propped up on her sofa as the list of murder suspects grows. The police, distracted by a few other cases, finally arrive only to find Sybil's life spiraling out of control.
Other cast members include Maggie Farrell of Williamsburg as the corpse; Joe Fernandez of West Springfield as Officer Knight; Adam Walters of Chicopee as Newbie; Madison DeBoise of Springfield as April May; Loren Skelly of Ludlow as Hysterical Victim; Seth Mastroianni of Springfield as Jack; Katie Boutin of Chicopee as Cora; Ali Khan of Agawam as Fannie; Chris Carey of Easthampton as Captain Dimples; Elizabeth Bess of Springfield as Happy Hazel; Ben Henle of Springfield as Radio Operator; Max Dewey of Belchertown as Stanger; Eileen Griffin of Holyoke as Mrs. Nabors; Madison Lemieux of Westfield as First Spy; Abaigeal Russell of Springfield as Second Spy; Lauren Welch of Springfield as 911 Operator; Skyrlee Amaro of Springfield as Drummer; Owen Cusick of Springfield as Therapist; Kyle Korhonen of East Longmeadow as Preacher; Julia Maciaszek of Chicopee as Bridesmaid; Liz Goncalves of Ludlow as Flower Girl; Olivia Schonagel of Chicopee as Doc; Tim Hurley of Longmeadow as Body Guard One; Ethan Pilon of Springfield as Body Guard Two; Lydia Craig of Springfield as Angel; and Elizabeth Huynh of Springfield, Kennedy Raynor of Springfield, Brieajah Ayers of Springfield, Emily LaFond of Westfield, and Emily Boutin of Chicopee, all as party guests.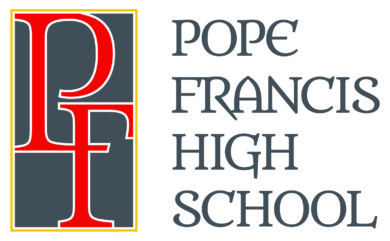 In addition to the 33 student cast members, 15 students will work backstage in props, costumes, lighting, and sound, as stagehands, and doing hair and makeup.
"This truly is a student-run play," said Anziano. "The students involved in this production are dedicated, hardworking actors who never stop perfecting their craft."
Performances will be held Friday, Dec. 15 at 7 p.m., Saturday, Dec. 16 at 7 p.m., and Sunday, Dec. 17 at 2 p.m. Tickets – which will be available at the door – cost $12 for adults, and $7 for students and senior citizens.
To learn more about the future of Pope Francis High School, visit popefrancishigh.org