Pope Francis Players to present 'Mary Poppins' May 19-21
REGIONAL
Staff report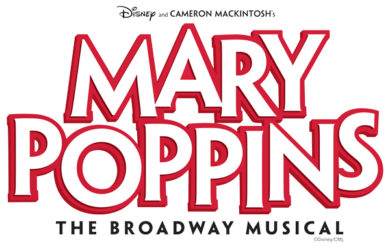 SPRINGFIELD – Pope Francis High School, a faith-based college preparatory school serving grades 9-12, has announced that the Pope Francis Players' spring production of Mary Poppins will be held Friday, May 19 to Sunday, May 21 at Central High School, 1840 Roosevelt Ave., in Springfield. The magical, high-flying musical will be directed by performing arts instructor John Anziano.
"The story of Mary Poppins has dazzled many for ages," said Anziano. "Now, Mary is bringing some of her spellbinding work to Pope Francis High School with a little help from the Pope Francis Players. With lights, sound, music, dancing, magic, hair and makeup, and outstanding acting talent, this show is sure to be one of supercalifragilisticexpialidocious proportion."
This stage version of Mary Poppins is based on the stories of P.L. Travers and the beloved Walt Disney film about a magical nanny and a carefree chimney sweep who prove to misbehaving children and their uptight parents that it's the little things that keep a family together. The song- and dance-filled show will include fan-favorite songs, including "Supercalifragilisticexpialidocious"; "Let's Go Fly a Kite"; and "Spoonful of Sugar."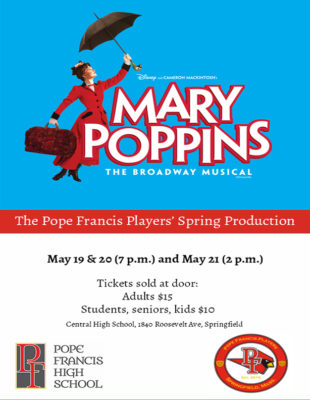 The cast features freshman Elizabeth Bess of Springfield as Mary Poppins; junior Chris Carey of Springfield as Bert; junior Joe Fernandes of Easthampton as George Banks; senior Lauren Brill of Granby as Winifred Banks; freshman Abby Russell of Springfield as Jane Banks; senior Braedon Brown of Southampton as Michael Banks; junior Chiarina Sarno of Springfield as Katie Nanna; junior Timothy Hurley of Westfield as policeman; senior Monica Brunton of Springfield as Miss Lark; sophomore Bradley Zweir of Holyoke as Admiral Boom; junior Gianna Branco of Wilbraham as Mrs. Brill; freshman Aaryn Brown of Southampton as Robertson Ay; sophomore Benjamin Henle of Springfield as park keeper; senior Devin Dumas of Springfield as Neleus; sophomore Skyrlee Amaro of Springfield as Queen Victoria; sophomore Seth Mastroianni of Springfield as bank chairman; sophomore Eileen Griffin of Holyoke as Miss Smythe; junior Owen Cusick of Springfield as Von Hussler; senior Jack Santos of Ludlow as Northbrook; freshman Lauren Welch of Springfield as bird woman; freshman Madison Lemieux of Westfield as Mrs. Corry;  freshman Elizabeth Commisso of West Springfield as Fannie; junior Ashley Haas of Springfield as Annie; sophomore Rachael Shannon of Holyoke as Valentine; freshman Emily Boutin of Chicopee as Teddy Bear; freshman Kyle Korhonen of East Longmeadow as Mr. Punch; sophomore Katie Boutin of Chicopee as Doll; and sophomore Sophie Fitz of Holyoke as Miss Andrew.
Performances will be held Friday, May 19 at 7 p.m., Saturday, May 20 at 7 p.m., and Sunday, May 21 at 2 p.m. Tickets – which will be available at the door – cost $15 for adults or $10 for students, senior citizens and children.
"The students involved in the performing arts at Pope Francis High School put a considerable amount of time and effort into developing a quality show," said interim head of school Thomas Y. McDowell. "We encourage our parents, alumni and friends, as well as the general public, to attend at least one of our performances of Mary Poppins."
For more information about Pope Francis High School, visit popefrancishigh.org.