Training event helps Pope Francis students learn to 'Stop the Bleed'
REGIONAL
Story and photos by John Thornton
CHICOPEE – Students gazed up at an anatomical chart of the human torso projected at the front of the classroom. Several tables were covered with tourniquets, rolls of gauze and rubber models of human arms and legs.
One might assume this classroom could be found in a medical school, filled with young doctors in training. This classroom however, was actually located within the halls of Pope Francis High School in Chicopee.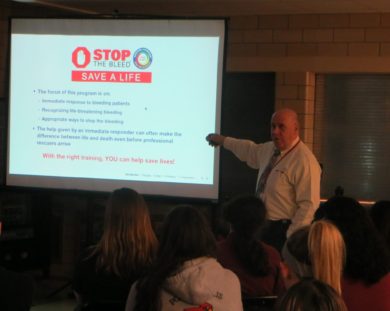 Today the school hosted a presentation called "Stop the Bleed" by Dr. Ronald Gross and a team of nurses and physicians from Baystate Medical Center.
The event was organized by Pope Francis High School's health and wellness teacher, Leslie Perrault. She said she heard about the event on the radio, while driving to school one morning. It was originally meant to be a first aid training course for Baystate Medical Center nurses who were taught how to stop a patient from bleeding using a tourniquet or medicated gauze.
Unfortunately, at a time when mass shootings have become a nationwide epidemic, this type of training could not stay confined to a hospital setting. The training course was soon offered to Girl and Boy Scout troops. Thanks to Perrault, Pope Francis High School became the first of many planned local school visits for the training event. Perrault said she thought it was important for her students to learn these lifesaving skills.
"Trauma isn't reserved for war," said Perrault. "It's everywhere and they could come across an accident. They were trained in CPR last week, so they are all now CPR-certified and 'Stop the Bleed' trained."
Perrault said she would recommend the course for all schools.
"It's great because the students get to try it," Perrault explained. "They practice on themselves, they know what it feels like and they're more prepared than they would be otherwise."
Dr. Gross and his team showed a slide show about what to do and not to do when assisting victims of trauma, and demonstrated how to apply tourniquets and stuff gauze into fake wounds on rubber limbs. They then let the students practice on each other, wrapping their own limbs with special training tourniquets.
Emily Boutin, a sophomore at Pope Francis, told iObserve she thinks it's necessary for students to learn these skills.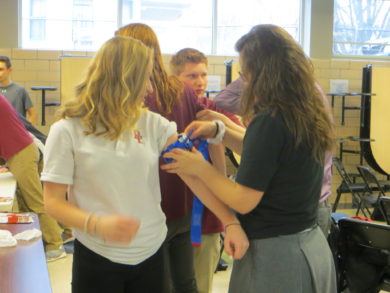 "I thought it was really fun," said Boutin. "Unfortunately, there's been a lot of school shootings that have happened recently all over the country, so to know that you know how to save the lives of your friends and people around you is empowering."
Dr. Gross agreed that it is empowering for students to learn how they can help in an emergency.
"Students are just as at risk for being in a traumatic event as anybody else," he said. "As a matter of fact, they're more active. They're just learning how to drive. They're doing all sorts of sports and activities. They're going on trips with their families and they're not immune to trauma."
The doctor and his team will be visiting more schools, as well as Girl and Boy Scout troops, to teach students to be potential lifesavers in an emergency.
A video version of this story will be featured on an upcoming edition of the Springfield Diocese's weekly newsmagazine, "Real to Reel," which airs Saturday evenings at 7 on WWLP-22NEWS.